From Epitech Barcelona to NTT Data: Dmytro's Internship Journey
Internships are a crucial part of a student's journey towards a successful career, offering valuable real-world experience and networking opportunities. In this interview article, we speak to Dmytro, a 3rd year student at Epitech Barcelona, who recently completed his internship at NTT Data in Barcelona. Dmytro shares his insights into the internship experience, discussing his roles and responsibilities, the skills he acquired, and his overall impressions of the company. Read on to learn more about Dmytro's experience and what he gained from this valuable opportunity.
Dmytro, can you tell us about your role and responsibilities during your internship at NTT Data?
"As a student intern at the reputable company NTT Data, I had the opportunity to gain valuable experience in a highly structured and organized environment. While it is common for interns at larger companies to have fewer responsibilities initially, this allowed me to focus on the specific project assigned by my mentor and learn from my colleagues in a clear and defined role. Despite being at the bottom of the department hierarchy, I was given the responsibility to oversee the progress of fellow students, which further enhanced my skillset. Overall, my internship at NTT Data provided me with an enriching experience and valuable insights into the inner workings of a large corporation."
How did your skills and knowledge from Epitech prepare you for your internship?
"As someone with a diverse educational background, I can confidently say that Epitech's project-based methodology has been incredibly valuable during the initial stages of my internship. When I first started my professional career, I realized that much of the knowledge I gained in high school was not applicable to the work environment. However, Epitech's emphasis on group-based projects gave me the skills needed to adapt quickly to the professional world."
What was the most challenging aspect of your internship and how did you overcome it?
"The project I was working on was complex and multifaceted, and it required a deep understanding of various technologies that I had not had prior experience with. The learning curve was steep, and it took me some time to fully grasp the concepts and methodologies used in the project.
To overcome these challenges, I took a proactive approach. I reached out to my supervisor and colleagues for guidance and clarification on the project and technologies. They were more than happy to help and provided me with valuable insights and explanations. In addition, I dedicated a significant amount of time to self-study, researching and studying the technologies on my own. I read documentation, tutorials, and articles, and practiced coding exercises to improve my skills and gain a deeper understanding of the project."
What did you enjoy the most during your internship at NTT Data?
"Learning new technologies was one of the most thrilling aspects of my internship experience. The company is at the forefront of the IT industry and I had the opportunity to work with cutting-edge technologies that I wouldn't have had access to otherwise. I was able to improve my technical skills and learn new techniques that I can apply to my future career. This was a great opportunity for me to gain knowledge and skills that I can use to differentiate myself in the job market.
The other standout experience was working in a very heartwarming team. Right from the first day my colleagues welcomed and supported me. My team was composed of experienced professionals who were always willing to share their knowledge and experience. They were patient, understanding, and helped me overcome any challenges I faced. I felt part of the team and not just an intern. The team spirit was strong, and working in a supportive and collaborative environment was truly remarkable.
All in all, I would say that my internship at NTT Data was a fantastic experience that I will always treasure. The opportunity to work with advanced technologies and in a very supportive team made it an enjoyable and valuable learning experience."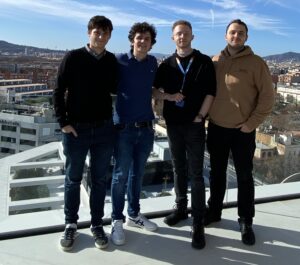 Can you provide an example of a project you worked on during your internship and how it contributed to the company?
"Due to confidentiality agreements I signed, I am unable to disclose specific details about my work at NTT Data. However, I can provide a general overview of the technologies I worked with. One of the primary areas of focus during my internship was the application of Semantic Web technologies. While this term may not be widely known, it is gaining traction in the industry as it becomes increasingly integrated with the development of artificial intelligence."
How do you think this internship experience will help you in your future career?
"This internship experience at NTT Data has been extremely beneficial in terms of expanding my knowledge and skills in the field of IT consulting. By working on complex projects and using new technologies, I have gained a deeper understanding of the industry and the specific processes and methodologies used in a professional setting. Additionally, the opportunity to work with a team of experienced professionals has enabled me to enhance my communication, problem-solving, and teamwork skills."
How would you rate your overall experience, and would you recommend a similar internship to other students?
"I would rate my overall experience at NTT Data as excellent. The internship provided me with valuable hands-on experience in the field of IT service and consulting. I was given challenging tasks and projects that aligned with my interests and career goals and received great mentorship and guidance from my supervisor and the entire team. I also had the opportunity to learn new skills and technologies that I can apply in my future career. The company culture was welcoming, and I felt like I was a part of the team. I would highly recommend a similar internship to other students interested in the IT service and consulting field."
Dmytro's experience at NTT Data showcases the immense value of internships in providing students with real-world experience and networking opportunities. Epitech's project-based methodology has helped Dmytro to adapt quickly to the professional world and take on complex projects in a highly structured and organized environment. We applaud Dmytro for his success and look forward to seeing more students excel in their internships and future careers.