My international exchange experience in Epitech – Interview with Stefania
In Epitech they push you to think on your feet and give you the opportunity to learn in the way that works best for you. It's a very hands-on and practical approach, which I'm sure will be beneficial for my future career.
About Stefania
Stefania is a talented and ambitious Computer Science student from Politehnica University of Bucharest, Romania. In the third year of her bachelor's degree at the Faculty of Automatic Control and Computer Science, Stefania decided to take advantage of the opportunity to study abroad and embarked on a journey to Epitech as part of the Erasmus mobility program.
In this article, Stefania shares her overall experience of studying at Epitech Paris and the differences she found between the education system in Romania at her home university and Epitech's learning methodology.
Why Epitech was the Right Fit for Stefania?
"My desire to explore new cultures and meet new people from all over the world, was the driving force behind my decision to study abroad. When the opportunity arose, I knew I wanted to take advantage of it and spend at least one year studying in a foreign country. I had always wanted to study in Paris, so when I received the list of partner universities from my school, I was thrilled to see that there were 7 universities located in Paris to choose from. That's when I first heard about Epitech. I researched each one of those universities, and in the end Epitech was the one that my heart was set on. I was really drawn to the 'Epitech way of learning,' which is very similar to how real IT jobs work" she explains. "They push you to think on your feet and give you the opportunity to learn in the way that works best for you. It's a very hands-on and practical approach, which I knew would be beneficial for my future career."
Exploring the Contrasts: Comparing Education at Home University and Epitech's Unique Learning Methodologies
" The educational system at Epitech is quite different from what I was accustomed to back home in Romania " says Stefania. "At my home university, I had a fixed schedule, and the teaching methodology was mainly based on lectures and applying the information given by the professors. It was more theoretical. But here, I had to learn to look for the information myself, broaden my way of thinking and see the problems on my own before asking the teachers and other students for help. Even if at first was hard it has also been a great opportunity for personal growth. I had to push myself out of my comfort zone, learn to think more critically and independently, and adapt to a new way of learning. It's been a valuable experience."
Stefania also notes that the flexibility of the schedule at Epitech was also a major change for her. "At first, it was quite challenging to balance school work, social life, and self-care while being in a new country," she says. "But I quickly learned how to organize my time more efficiently and found a balance."
Highlights of Stefania's experience at Epitech (on a professional & personal level) 
Studying at Epitech has had a profound impact on Stefania both professionally and personally. "From a professional standpoint, the thing I liked the most is that I learned to think independently and discovered that project-based learning is the most effective way for me to learn" she says. "I also had the opportunity to develop new programming skills."
On a personal level, Stefania notes that her time at Epitech has also been transformative. "Epitech has taught me how to collaborate better with colleagues, how to share ideas and be open to being wrong" she says. " Additionally, living in Paris and studying at Epitech has been an incredible personal and professional growth experience for me. Not only did I have the opportunity to immerse myself in the rich Parisian culture, but I also gained a greater sense of independence and self-reliance by living in a new country where I didn't know the language. I learned to overcome my fears and embrace new perspectives, which has made me more open-minded and adaptable. This experience has been life-changing."
Stefania's Favorite Things to do in Paris
"Paris has so much to offer, and my favorite things to do here are constantly changing" says Stefania. "I love wandering the streets, trying out different cafes, and spending time with people from all over the world. I also enjoy visiting the popular tourist destinations as well as the hidden gems of the city."
Stefania also found a way to keep a piece of home with her during her time in Paris by joining a student association called "Liga Stuentilor Romani in Strainatate" (LSRS), or the Association of Romanian Students Studying Abroad. "Through this association, I met people who shared my passion for personal and professional growth" she says. "We all came to France to learn and grow as individuals, and this association helped me to discover a new side of myself. I am now the Vice-President of LSRS Worldwide and we organize a lot of events, from fun parties to professional networking events, so that students can connect with people from various fields of work and studies. I highly encourage others to find similar ways to use their experience abroad to give back and help their home country or other students studying abroad."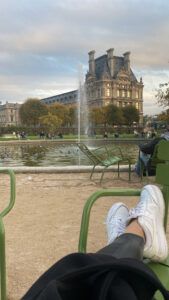 Stefania's advice to our future international students
"The best advice I can give to future international students is to make as many friends as possible, both at school and outside of school," says Stefania. "Having a strong support system will make everything easier and more enjoyable. Whether you're having a tough day working on a project or just need someone to talk to, friends are there to support you and help you through it. Additionally, be prepared to work hard, but remember that the effort will pay off in the end. You'll be grateful for the things you've learned, even is sometimes you may fail.
"And most importantly, be patient with yourself and enjoy the person you're becoming."