My international exchange experience in Epitech – Interview with Sofia
" What really drew me to Epitech was their unique approach to teaching. They prioritize helping students develop the skills they need to adapt to any situation, grow on their own, and complete projects successfully. I loved the fact that they didn't just focus on theory, but also on practical skills that are essential for a career in software development."
About Sofia
Meet Sofia, a 19-year-old engineering student from Monterrey, Mexico, with a passion for software development. Sofia is currently in her third year of studies at Tecmilenio University, where she has been honing her skills in programming and computer science. However, her academic journey has taken an exciting turn, as she recently embarked on a once-in-a-lifetime adventure: studying abroad at Epitech in Paris, France.
For Sofia, this opportunity to explore a new academic and cultural environment has been a dream come true. As she explains, "Studying abroad has always been on my bucket list." For the past few months, Sofia has been immersing herself in the vibrant student life of Paris, soaking up the city's rich history, art, and cuisine, while also attending classes and collaborating with fellow students from around the world.
But studying abroad is not just about sightseeing and having fun; it's also about challenging oneself, pushing one's limits, and growing as a person. Sofia's experience at Epitech has certainly been no exception. As she notes, "Being in a new environment has forced me to step out of my comfort zone and adapt to new ways of learning and working. I have had to learn to communicate in a foreign language, adjust to a different academic system, and collaborate with people from different backgrounds and cultures." However, Sofia has risen to the challenge, and the result has been a transformative learning experience that will stay with her for the rest of her life.
In the following article, we will explore Sofia's journey in more detail, from her initial preparations for studying abroad to her day-to-day experiences at Epitech, and the lessons she has learned along the way. Join us as we discover the joys and challenges of international study, and the many ways in which it can enrich one's life and career.
Why Epitech was the Right Fit for Sofia?
"When I was researching schools for my study abroad experience, Epitech immediately caught my attention. It's a top-notch IT school with a strong reputation, and the fact that it's located in Paris was an opportunity I couldn't pass up! I wanted to challenge myself by studying in a different environment, and Paris was the perfect place for that.
What really drew me to Epitech was their unique approach to teaching. They prioritize helping students develop the skills they need to adapt to any situation, grow on their own, and complete projects successfully. I loved the fact that they didn't just focus on theory, but also on practical skills that are essential for a career in software development. Plus, Epitech's Qualification of Expert in Information Technology is highly recognized and accredited, which was important to me because I wanted to make sure I was getting a quality education.
But it wasn't just Epitech's academic reputation that attracted me. I was also impressed by their values of excellence, solidarity, and courage. They promote autonomy, creativity, and freedom in their teaching style, which was perfect for me. I love IT and prefer hands-on, project-based learning, and Epitech's teaching style aligned perfectly with my goals and interests. I felt like I would fit right in at Epitech!
Another reason I chose to study in France was that my sister studied here before and loved it! She told me all about the culture, the language, and the people, and I was eager to experience it for myself. I knew that studying at Epitech in Paris would be an amazing way to do that while still working toward my academic and career goals.
Overall, I'm incredibly grateful for the opportunity to study at Epitech. It's been challenging, but also incredibly rewarding. I've learned so much about myself, about software development, and about the world. I'm excited to see where this experience will take me in the future!"
Exploring the Contrasts: Comparing Education at Home University and Epitech's Unique Learning Methodologies
"The biggest difference between my hometown university and Epitech's learning methodologies is the approach to teaching. At my university, the teaching methodology was more traditional, with teachers typically delivering lectures and explaining subjects in a didactic manner. However, I often found that the material covered was outdated and didn't reflect the latest trends and advancements in the field. However, teamwork and collaboration were strongly promoted, and we were encouraged to work together and interact with everyone. This approach was useful in developing our social skills, but it didn't provide much practical experience or individual growth.
On the other hand, Epitech's approach is centered on creating a simulated work environment that allows students to acquire practical experience while still in school. This particular aspect of their program was particularly appealing to me because I believed it would facilitate a more comprehensive learning experience and ultimately prepare me better for my professional career. Specifically, by engaging in hands-on projects, I could apply theoretical knowledge to real-world situations and hone critical skills that are essential in the field of software development. However, at Epitech, you usually work solo, and you don't get to know everyone in your class as well as you would in a more traditional setting. But despite this, I still prefer Epitech's study program because it's so new and innovative, and it provides a unique learning experience that will be invaluable in my future career.
One thing I really appreciate about Epitech's methodology is the focus on individual growth and self-learning. The teachers don't spoon-feed you the answers, but rather guide you in the right direction and encourage you to find the solutions on your own. This has helped me develop my critical thinking skills and become more independent in my learning."
Highlights of Sofia's experience at Epitech (on a professional & personal level) 
"During my exchange program at Epitech, I had the chance to experience significant growth both personally and professionally. On a professional level, I learned to adapt quickly to new situations and to experiment with new ideas. The Epitech curriculum was very diverse, and I was able to explore various areas of my field, such as DevOps, Cybersecurity, and Trading Stocks. This enabled me to discover new interests and potential career paths that I can pursue in the future.
On a personal level, my study experience in Paris exposed me to a fascinating new culture. I met people from different parts of the world who shared my goals, and this provided me with new perspectives and insights. Interacting with people from diverse backgrounds taught me to be more open-minded and to appreciate different cultures. Overall, the exchange program at Epitech motivated me to keep growing personally and professionally, and I am grateful for the experience."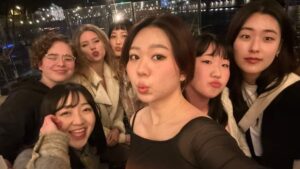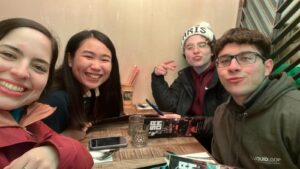 Sofia's Favorite Things to do in Paris
"When I was in Paris for my study exchange, I discovered so many wonderful things to do in the city. One of my absolute favorites was trying all of the delicious pastries and bakery items. The quality and variety of French bakeries are truly unmatched, and it was an indulgence that I could not resist. Another activity that I enjoyed was spending time in the charming cafes throughout the city. They offer a unique and delightful atmosphere, and it was a great way to relax and take in the sights and sounds of Paris.
As an art lover, I also had the chance to explore some of the world's most famous art galleries and museums, such as the Louvre and Musée d'Orsay. Seeing the magnificent art and history on display there was truly an awe-inspiring experience. In addition to the museums, Paris has some of the most beautiful parks and gardens I have ever seen, such as the Luxembourg Gardens and Tuileries Garden. They offer a peaceful escape from the busy city and are a great place to relax and enjoy nature.
What makes Paris so special to me is that there is always something new to discover. The city is vibrant and exciting, with different neighborhoods, markets, and events. I loved exploring new areas and finding hidden gems that I never would have known existed. Overall, my study exchange in Paris was an unforgettable experience that allowed me to immerse myself in the French culture and beauty of this amazing city."
Sofia's Travel Experiences
"Traveling was one of the most exciting parts of my study exchange experience. I was able to explore a variety of countries and cities, including Turkey, the Netherlands, Ireland, and the UK. Turkey was definitely a highlight, where I visited Cappadocia, Ankara, Istanbul, Pamukkale, and Ephesus. Each city had something unique to offer, whether it was the breathtaking natural landscapes, historical landmarks, or local cuisine.
In Amsterdam, I loved exploring the canals and wandering through the charming neighborhoods. Dublin was a vibrant city with a rich history and friendly locals. And in the UK, I had the chance to visit Manchester, London, and Liverpool, where I saw iconic sights like Buckingham Palace and Abbey Road.
What I loved most about traveling was getting to experience different cultures and learn about their history and traditions. It was eye-opening to see how people live their lives in other parts of the world and it made me appreciate the diversity and beauty of our planet."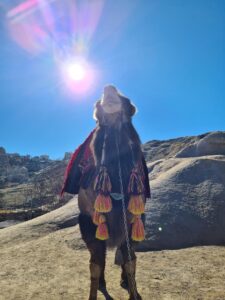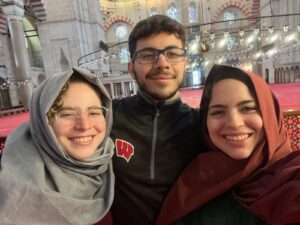 Sofia's advice to our future international students
"My advice to future international students who will study in Epitech is to not be scared. Don't let the fear of the unknown or language barrier hold you back from this amazing opportunity. Even if you don't know French, don't know anyone, and are far away from your friends and family, take the leap and do it. You never know what amazing experiences and opportunities are waiting for you. Embrace the fear and uncertainty, and be open to meeting new people and trying new things.
Remember that you are not alone, and there are resources and support available to you. Make use of the various resources on campus such as the International Student Services and French language classes. Joining clubs and organizations is also a great way to meet people and get involved in activities that interest you.
And always remember the message from Gabriel García Márquez: "Dile que si, aunque te estes muriendo de miedo, aunque después te arrepientas, porque de todos modos te vas a arrepentir toda la vida si le contestas que no," which means "Say yes, even if you're scared to death, even if you regret it later, because you'll regret it for the rest of your life if you say no." So, take risks and say yes to new experiences. If that isn't already compelling enough, I must add that I met the love of my life during my time here, which makes it even more special and unforgettable."