My international exchange experience in Epitech – Interview with Aqsa
"Working together with students from different countries to complete our project was a challenging yet special experience. We transitioned from just being classmates to becoming friends. Especially when we worked on the final project together, the feeling of everyone working towards the same goal was amazing. If it weren't for this exchange, I might have never had such an incredible experience in my life."
About Aqsa
Meet Aqsa, a senior student from National Taipei University in Taiwan, who recently embarked on an exciting study exchange journey to Epitech Paris. Aqsa is a unique individual with a diverse cultural background – her father hails from Pakistan, while her mother is from Taiwan, making her a proud biracial individual.
Growing up in a cross-cultural family environment has instilled in Aqsa a positive attitude towards problem-solving, the idea of challenging the status quo, and a strong willingness to learn new things. Her passion for technology led her to pursue a degree in Teck 3 at Epitech, where she immersed herself in the vibrant Parisian student life while gaining invaluable knowledge and experience in the field of computer science.
Throughout her exchange program, Aqsa demonstrated remarkable resilience and adaptability in navigating the cultural differences and language barriers she encountered. Her exceptional interpersonal skills and natural curiosity helped her to make meaningful connections with her peers and instructors, enabling her to fully engage in the academic and social aspects of the program.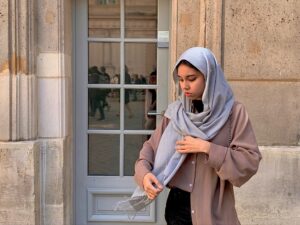 Why did you choose to study in Epitech? 
When asked about her decision to study at Epitech Paris, Aqsa was quick to highlight the unique teaching methodology of our school. "The main reason that I chose Epitech is because of its unique teaching methodology" she said. "Epitech does not offer a general and traditional teaching methodology but applies project teaching methods to allow students to learn through practicing, testing, making mistakes, and through individual or team participation in short-term or long-term projects, which is very different from my home university."
Aqsa's eagerness to learn through practical experience was perfectly aligned with Epitech's project-based approach. She went on to explain, "I was drawn to the idea of learning through projects because I believe that it's the best way to gain practical skills and knowledge. The traditional teaching methods are good, but they don't always provide students with the opportunity to put what they've learned into practice."
Aqsa's experience at Epitech was clearly transformative, and she came away from her study exchange with a newfound appreciation for the power of project-based learning. "I am so grateful for the opportunity to study at Epitech" she said. "It has truly changed my perspective on education, and I am excited to see where my newfound skills and knowledge will take me in the future."
What are the biggest differences between education in your home university and Epitech' learning methodologies?
Aqsa's experience at Epitech Paris was vastly different from her previous educational experiences at National Taipei University. "The way I teach at my home university is the traditional way of listening to lectures and taking exams" she explained. "Of course, there are still some courses that need to complete projects, but most of them are mainly exams."
The contrast between the traditional approach at her home university and the self-study methodology at Epitech was striking. "However, all courses in Epitech are self-study, and you need to search information, watch videos and learn to complete the work by yourself and your teams." Aqsa said.
While this might seem like a daunting prospect for some students, Aqsa embraced the challenge of self-directed learning. "At first, it was a bit overwhelming to have so much autonomy in my studies" she admitted. "But I quickly realized that this approach allowed me to take ownership of my education and learn in a way that worked best for me."
Aqsa's willingness to step outside of her comfort zone and embrace new challenges is an inspiration to students everywhere. Her experience at Epitech Paris is a testament to the power of self-directed learning and the importance of seeking out new educational opportunities.
What did you enjoy the most during your study exchange in Epitech? (on a professional & personal level)
For Aqsa, the highlight of her study exchange at Epitech Paris was the opportunity to collaborate with students from different countries. "Working together with students from different countries to complete our project was a challenging yet special experience" she said. "It was difficult to discuss a project in a familiar language in Taiwan, let alone communicate effectively in a foreign language with classmates from diverse backgrounds."
Despite the initial language barriers, Aqsa found that effective communication and teamwork ultimately helped her form lasting friendships with her classmates. "At the beginning, I wasn't sure what to do, but through communication and building relationships with my classmates, we transitioned from just being classmates to becoming friends" she explained. "Especially when we worked on the final project together, the feeling of everyone working towards the same goal was amazing. If it weren't for this exchange, I might have never had such an incredible experience in my life."
On a personal level, Aqsa found that her study exchange allowed her to grow and develop in new ways. "Living in a foreign country and immersing myself in a new culture was an incredible opportunity for personal growth" she said. "I challenged myself and pushed beyond my comfort zone, which helped me become more confident and independent."
On a professional level, Aqsa's study exchange also provided her with valuable skills and experiences that she can apply in her future career. "The project-based learning approach at Epitech allowed me to gain hands-on experience and develop practical skills that will be valuable in my future career" she explained. "In addition, collaborating with students from different cultural backgrounds has given me a greater understanding of how to work effectively in multicultural teams, which will be an essential skill in our increasingly globalized world."
If you could give some advice to our future international students who will study in Epitech, what would that be?
"My advice to future international students would be to approach everything with an open mind. You may face discomfort or encounter unexpected challenges, but don't let that discourage you. With determination, you can overcome any difficulties that come your way. Additionally, make sure to enjoy your time during the exchange because it will undoubtedly be the most memorable and special experience of your life."
She added, "Another thing to keep in mind is to be proactive in both your studies and social life. Don't hesitate to ask questions, participate in group projects, and engage in extracurricular activities. This is the best way to get the most out of your experience and make lifelong friends from all around the world."
As Aqsa's study exchange at Epitech draws to a close, she is grateful for the opportunities and experiences she has gained. Through this exchange, she has developed new skills, formed lifelong friendships, and broadened her perspective on life. Although her time at Epitech has come to an end, the memories and lessons she has learned will stay with her forever.