My international exchange experience in Epitech – Interview with Anastasiia
"My semester as an exchange student at Epitech allowed me to dive deeper into the field of digital technologies and immediately put the skills I learned into practice, through a variety of projects. In addition, it gave me the opportunity to learn from IT experts in the industry and meet many great people from all around the world."
About Anastasiia
Anastasiia is 22 years old, and she was born and raised in Moscow, Russia. Since the age of 15, she has developed a strong interest in the field of information technology wishing to pursue a career in data analytics/product analytics. She's inquisitive about the idea of isolating interesting and unexpected observations from large datasets in order to make life easier for users through her work. In the future, Anastasiia would also like to become an expert in the field and share her knowledge with others as a teacher, or maybe become a conference lecturer.
Regarding her educational background Anastasia did a bachelor's degree in Computer Science, and she's currently following a master's degree in HSE University in "Business Analytics and Big Data". As part of her master's degree, she has started in the fall of 2022, a semester exchange program in Epitech – "a choice that turned out to be one of the best she could do" says Anastasiia. To know more about it, we've asked her if she would like to share with us the story of her study exchange experience in Epitech, and she happily agreed. Here's her testimony below:
Why did you choose to study in Epitech? 
I have chosen Epitech for my international study exchange, mainly because of its learning by doing methodology. I really liked the idea of putting into practice everything I was going to learn. Epitech allowed me to master skills in the field of CS, gain valuable knowledge and immediately apply it to real tasks. This approach suits me very well, and I think practice is always better than theory. My semester as an exchange student at Epitech allowed me to dive deeper into the field of digital technologies and immediately put the skills I learned into practice, through a variety of projects. In addition, it gave me the opportunity to learn from IT experts in the industry and meet many great people from all around the world.
Connecting and exchanging with international students was very inspiring! I would also like to mention that before coming here I was fascinated about Paris. It's one of the most famous cities in the world, and everyone I know talks fondly about it. I am happy that I had the chance to live here where the most known artists, writers and historical figures have been and lived once here (and some of them still do). I'm thrilled to walk in the streets of Paris where Blaise Pascal once walked (we are so many to be grateful to him for his inventions in the field of mathematics which subsequently led to the development of computer science), and it's amazing!
What did you enjoy the most during your study exchange in Epitech? (on a professional & personal level)
As I mentioned before, what I liked the most in Epitech was the teaching approach. Here we can communicate as equals with the advisors (as there are no professors in Epitech). Moreover, I liked the fact that there is always someone there to help us with any issue we encounter. I was surprised to see that there are few classes per week in the schedule, but the tasks are quite huge and complex. However, we are encouraged to ask any questions we have in order to solve our problems. Also, I really enjoyed working on team projects. We were a group of 5 international students, coming from different backgrounds and cultures, and despite all the differences, we all bonded and understand each other very well. I really think now that diversity is a true strength. It was a very interesting experience for me, and we have learned a lot from each other.
Besides that, since I moved in Paris for my exchange, I'm really enjoying trying different French food specialties. By the way, the pastries are divine here! I couldn't imagine a better start in the morning than with a coffee and the amazing fresh croissants ?
What are your favourite things to do in Paris?
The thing that I really like to do in Paris is walk, walk and then walk a little bit more. ? Paris is gorgeous and the food is very delicious. There are various things to visit such as museums and exhibitions. Monet's Water lilies in the Orangerie Museum have got under my skin. In Paris there is always something to do for everyone. And for those who want to explore France more, travelling by train is really accessible and we can go to many places such as for example, Etrat or Mont Saint Michel, which I visited and that I find just incredible.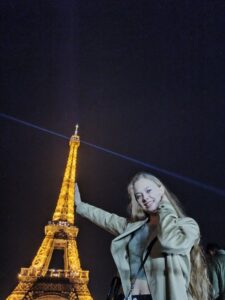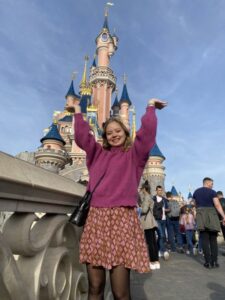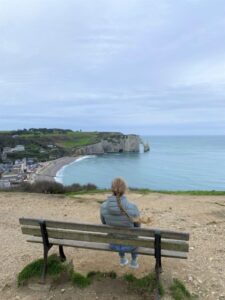 If you could give some advice to our future international students who will study in Epitech, what would that be?
Before coming to France, I really think it's important to learn some French. Here, people are passioned about their culture and language and do not like very much to speak other languages. Also, I suggest to future international students to buy a navigo pass card for a month while waiting for a student navigo card. In addition, France provides a lot of student benefits, and there are many good deals reserved for students; so check them up before coming here (maybe this link can help). And get ready to enjoy the beauty that will surround you all the time while you'll study in Paris!