My Police Belgium, the Belgian police app designed by students from Epitech Brussels
A few months ago, the Belgian police launched a new application to streamline the exchange of information with citizens, named 'My Police Belgium.' This tool is nothing other than the result of collaboration between local authorities… and students from our Brussels campus!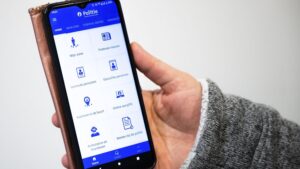 Last year, Vincent Moreau, General Product Manager at the Police Information Directorate and responsible for the entire software development strategy within the Belgian police, enlisted students from Epitech's Brussels campus to create 'My Police Belgium' a smartphone application for belgian citizens. A few months after the launch of the solution on Android and iOS, he shares with us more on this collaborative adventure with our students.
What observation led to the inception of this project?
Vincent Moreau – The idea behind it is that currently, within the integrated police force (comprising the Federal Police and the Local Police in Belgium), we already have a web platform through which we share information with citizens. This platform serves the federal police as well as the local police, who can utilize it to develop their own websites and share local news specific to their respective police zones. On the federal level, the platform covers more general news that pertains to the entire territory. Additionally, this web platform also provides information about missing persons or wanted individuals.
However, we realized that nowadays, most people are constantly using their smartphones. While the web platform is responsive and can be accessed on smartphones, we wanted something with faster and more intuitive navigation. That's when we realized that developing a dedicated application could offer better user experience and information browsing capabilities.
What is the purpose of this new application?
VM – We wanted to provide a condensed version of information through this app. Additionally, we aimed to utilize the native tools available in apps to create features for visually impaired individuals and others with specific needs, so that they can navigate the app as well.
For us, this aspect was crucial. Therefore, we paid special attention to the work of the students and instructed them to focus on accessibility. They took into account guidelines related to colors, display, and other considerations.
Furthermore, we wanted to avoid developing the app solely ourselves to ensure that it meets the citizens' expectations. That's why our approach led us to collaborate with students. We told them, "We want to have an app, an additional means to provide information." We shared the desired objectives and asked them to come up with their own proposals regarding the interface. After all, students are citizens just like anyone else, and they have ideas. So, we encouraged them to envision how a police app could be useful to them in terms of content and navigation.
Why did you choose to collaborate with Epitech students?
VM – It was purely by chance: next to our building, there is a space occupied by Epitech. We thought, "Hey, we have a school right next door, and they must have students. It could be really convenient," as we could meet them, have open communication, they could come to us, and we could visit them.
I also looked into Epitech online to understand what it was all about. I thought it would be interesting to collaborate with a school like Epitech, which has an unconventional learning method that differs from most higher education institutions. Epitech focuses more on practical learning and real-life situations, whereas other schools tend to emphasize theory.
These different methods are not necessarily better or worse, just different. I wanted to see what would come out of working with these students and their type of education. We can already see that in terms of creativity, we're dealing with something unique. It's not about adhering to a strictly academic framework; it's truly about unleashing pure creativity.
How did you organize yourselves on a daily basis?
VM – We had a Teams group to maintain constant communication with them. Occasionally, we visited their premises, and they also came to present the interface, among other things. Overall, whether it was in terms of design or concept, we stuck to the initial ideas that emerged and made adjustments over time. For example, regarding navigation, they found a left/right swiping system more interesting than a system with clickable icons, which would be a more traditional navigation approach.
We drew inspiration from the principle of Tinder, finding it highly practical, faster, and more playful. We kept that aspect, for instance. We also combined it with the use of icons so that older individuals, who are accustomed to that system, can continue using it. Those who prefer swiping have that option as well. Now, we can also appeal to younger individuals who are more technology-oriented. The idea was that nobody would feel lost when using the application.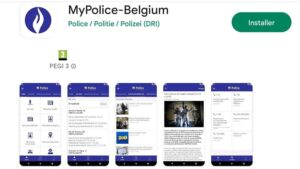 Are you satisfied with this collaboration?
VM – We are very pleased because it went well. At the end of the project, we also told them that we were open to future collaborations, whether it be for new projects or for further development of this project. For us, this app is a tool that should continue to evolve. It is truly designed to be an application created by citizens, for citizens. We also want it to be a collaborative effort, meaning we are open to other schools proposing ideas to enhance the tool. We could come up with our own ideas, but our understanding of the needs and information might not be the same.
What feedback have you received since the app was launched?
VM – We must be close to 30,000 downloads since the beginning of the year. When we look at the online comments, as well as the feedback we receive via email, the responses have been mostly positive. We can sense that citizens are eager for information. They have already made suggestions for improvements or new features. In the majority of cases, we try to take those into account. However, at the moment, our focus is primarily on performance. Very few issues have been reported by our users thus far. Overall, the ratings are relatively good, as we currently have an average rating of slightly over 4 stars on both Apple and Android platforms, if I'm not mistaken.
Do you plan to collaborate with Epitech students again in the future?
VM – We have an entire innovation project within the integrated police force. One of the pillars of this project is the academic sector. There's also the private sector and the governmental sector. However, the academic pillar is very important, whether it's for this app or other projects within the integrated police force. It's crucial for us to have this connection with the academic world in order to find talent where it exists and assist us in our projects. Regarding the collaboration with Epitech, we are very pleased. In fact, I have a former Epitech student on my team whom we hired.
If we have the opportunity to develop more things with Epitech, we are definitely interested!