My international exchange experience in Epitech – Interview with Barbara
"When I first heard about Epitech's teaching approach, I knew it was the perfect fit for me. Their project-based learning system is very similar to the real-world IT industry, where you're constantly challenged to think critically and creatively. I was also attracted to the idea of learning alongside a diverse student community who share the same passion for technology. In my opinion, Epitech's approach to education is the best way to gain the skills and knowledge necessary to excel in the tech industry and prepare for a successful professional career."
About Barbara
Meet Bárbara Menezes, a driven and ambitious student from Brazil. Bárbara is currently pursuing her graduate studies in Software Engineering at PUC Minas, but it wasn't always her intended career path. With a background in Finance, Bárbara realized her true passion was in the digital and tech industry. After completing her second year of her of studies in IT, she was presented with the opportunity to study abroad at Epitech, where she knew she could further enrich her personal and academic experience. Join us as we delve into Bárbara's journey and discover the impact Epitech has had on her growth as a student and individual.
Why Epitech was the Right Fit for Barbara?
"When I first heard about Epitech's teaching approach, I knew it was the perfect fit for me. Their project-based learning system is very similar to the real-world IT industry, where you're constantly challenged to think critically and creatively. I was also attracted to the idea of learning alongside a diverse student community who share the same passion for technology. In my opinion, Epitech's approach to education is the best way to gain the skills and knowledge necessary to excel in the tech industry and prepare for a successful professional career."
Exploring the Contrasts: Comparing Education at Home University and Epitech's Unique Learning Methodologies
When asked about the biggest differences between the education in her home university and Epitech, Barbara spoke of the contrast between traditional and hands-on learning approaches.
"At my home university, the teaching approach was more traditional," Barbara explained. "The professors would lecture on the material, and I was expected to learn it in a more passive way. But here at Epitech, I was thrown into a hands-on, practical learning environment where I had to actively seek out solutions and apply my knowledge to real-world projects.
Barbara emphasized the impact that this hands-on approach had on her personal and professional growth. "I feel like I've learned a lot at Epitech, because I was constantly challenged and pushed to think critically and creatively. The educational system here is much more similar to the real-world demands of the tech industry, and I know that the skills and experience I've gained will serve me well in my future career."
Barbara also highlighted the importance of choosing an educational institution that aligns with your personal and professional goals. "If you're looking for a traditional, lecture-based learning environment, then a traditional university may be the right fit for you. But if you're interested in a hands-on, practical education then Epitech is definitely worth considering."
Making Connections and Learning a New Language: Barbara's Personal Highlight of her Study Exchange at Epitech
As Barbara reflects on her time at Epitech, one of the things she enjoyed most was the opportunity to meet new people and immerse herself in a new culture. "Meeting new people was definitely one of the highlights of my experience here" she recalls. "And starting to study French, which helped me to better integrate into the culture and improve my language skills, was a personal and professional accomplishment for me."
Barbara found that the diverse student body at Epitech provided a rich tapestry of experiences, backgrounds, and perspectives that she was able to draw from in her classes and in her personal life. The international community at Epitech created an environment where Barbara could grow and develop not only as a student, but also as a person.
In addition, Barbara was able to improve her French language skills, which will serve her well in her future endeavors. Being able to communicate in a new language opened up new opportunities for Barbara and allowed her to more fully experience and enjoy the culture of France.
All in all, the opportunity to make new friends and learn a new language has made a lasting impact on Barbara and is one of the things she will cherish most about her time at Epitech.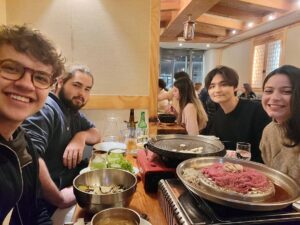 Barbara's Favorite Things to do in Paris
" I enjoy walking through the streets of Paris, having picnics in the city's parks, and visiting art galleries. There is always something to do in Paris, and the city is filled with music and beautiful cafes. A visit to Versailles is a must, as the Palace offers an incredible insight into French history, and the gardens are very beautiful. Additionally, at Epitech, we have extracurricular activities that allow us to get to know the city better and enjoy it with other students."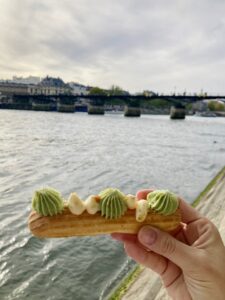 Barbara's advice to our future international students
In the concluding section of our interview with Barbara Menezes, she shares her advice for future international students who are considering studying at Epitech. With her experience of transitioning from a traditional educational system to the unique methodologies offered at Epitech, Barbara has some valuable insights to share.
"My best advice for future international students at Epitech is to be prepared to embrace a whole new way of learning," says Barbara. "Epitech offers a different and challenging approach to education, one that is designed to prepare students for the realities of the tech industry."
Barbara also stresses the importance of being open to help and getting help from others. "At Epitech, you'll be surrounded by a community of students who are passionate about technology and eager to support each other. Make the most of this opportunity to learn from and collaborate with your peers."
Finally, Barbara encourages future students to take advantage of all the fun activities that the university offers. "Epitech is more than just a place of learning – it's a place where you'll make new friends, experience new cultures, and grow as a person. So, be sure to enjoy the journey!"
With these words of advice, Barbara leaves us with a clear picture of the opportunities and challenges that await future international students at Epitech. We hope that her story will inspire and guide those who are considering pursuing a career in technology and are looking for a truly innovative and rewarding educational experience.