A Journey Abroad: Arthur's Study Exchange Experience in South Korea
"This experience in South Korea has been a true eye-opener. On the professional front, I have gained invaluable knowledge in my field of study and have become more confident in speaking English. On a personal level, I have discovered so much about the rich culture of Korea and have made truly unforgettable memories."
About Arthur
Meet Arthur Croix, our 4th year of student from Epitech Nantes. Currently in his 4th year of studies, Arthur is doing an exchange program at the Korea University Sejong Campus in South Korea.
Arthur has always been fascinated by the IT field, starting from the first time he used a computer. "I really became interested in IT when I met students from Epitech at a student fair. Their passion was inspiring and motivated me to develop my skills in the field" he recalls.
Now, Arthur is particularly drawn to the fields of Artificial Intelligence and Machine Learning. "It's an area that's rapidly developing today and has diverse applications that can help in various situations" he says, expressing his hope to work in this field in the future.
Finding the Perfect Study Exchange Destination
"The Asian continent has always intrigued me, so it was a natural choice to pursue a student exchange program in the region. I was particularly drawn to Japan and Korea because of their rich culture and my desire to learn more about it. I came across Korea University while browsing the university pages on Tekfeed, and I was impressed to see that it offered courses in the fields of AI and Machine Learning, which I have a strong interest in. Additionally, Korea University is one of the three most prestigious universities in Korea (SKY), making it the perfect choice for me to further my studies. So far, I can say that I made the right choice. I'm glad that I chose Korea University for my exchange program." says Arthur with a smile.
Arrival in South Korea: A warm welcome
When Arthur first arrived in South Korea, he was greeted by a representative from Korea University (KU) who assisted him with the administrative procedures and finding accommodation. "Everything went smoothly! The representative was extremely helpful and introduced us to other exchange students. She even invited us to have a meal together, making the integration process very easy."
Arthur was immediately struck by the warm hospitality of the Korean people. "Koreans are incredibly welcoming to foreigners" he notes. "Although they may seem shy at first, they are very approachable and friendly."
One of the first things Arthur noticed was the convenient and efficient transportation system in South Korea. "Traveling anywhere in the country is fast and affordable, thanks to their great transportation system." In addition to the transportation, Arthur was pleasantly surprised by the dining experience in South Korea. "Most restaurants are very affordable and offer simple, yet delicious meals. The best part? You get unlimited free side dishes with your main dish." he adds.
Arthur's initial fears about the university experience in South Korea were quickly dispelled. "I was worried that the classes would be boring and the professors uninteresting like my experiences in school before Epitech. But my initial assumption was completely dispelled once I started attending classes. The professors here are incredibly passionate and knowledgeable, making every lesson an engaging experience." he explains.
Lastly, Arthur was struck by the beauty of South Korea's traditional arhitecture and clothing. "Their traditional architecture and attire are so unique and different from anything I've seen in the western world! It's truly beautiful and fascinating to see." says Arthur.
Balancing Personal and Professional Life Abroad
Arthur's experience in Korea has been a fulfilling one both professionally and personally.
"On a professional level, I am thoroughly enjoying the courses I have taken so far in machine learning, AI, Korean culture, and the Korean language. The professors are extremely helpful and friendly, and they put a lot of effort into their lessons.
The university environment is also fantastic. There are many events and activities that take place on campus, including concerts, student performances, and food stands. These events make for a fun and entertaining evening after a day of classes.
On a personal level, I am greatly enjoying discovering this new culture, its customs, and the Korean language. Some behaviours here are different from what I'm used to in France, so it's been an interesting and fun challenge to adapt.
There is a feeling in Korea called Jeong (정) that cannot be described on paper, but it must be experienced. It can be thought of as a combination of kindness, friendliness, and happiness.
I've had the opportunity to experience Jeong in various ways while traveling in Korea. For example, on my first day in the country, I went to Seoul with a Korean friend, and even though we didn't know each other well, there was a feeling of kindness and generosity throughout the day that made it truly enjoyable. Additionally, when I went paragliding in the Danyang valley with another Korean friend, I felt the same warmth and kindness. In general, I've found that Jeong is present every day and, in every situation, and it's truly heart-warming."
What this experience has brought to Arthur
The new experience in South Korea has brought a wealth of knowledge and personal growth for Arthur. On a professional level, the first semester saw Arthur dive into the world of machine learning, Korean culture, and language, gaining a deeper understanding in these subjects. He also developed a newfound confidence in his English language skills through handling administrative tasks and managing things on site.
On a personal level, Arthur was able to delve into the heart of Korea, learning about its culture and customs through interaction with its people. He experienced the unique way of life in the country, and it has left a lasting impression on him.
As Arthur put it: "This experience in South Korea has been a true eye-opener. On the professional front, I have gained invaluable knowledge in my field of study and have become more confident in speaking English. And on a personal level, I have discovered so much about the rich culture of Korea and have made unforgettable memories."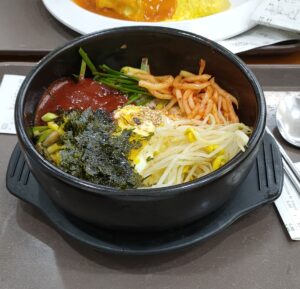 Arthur's advice to our future tek4 students going in South Korea
For our future Tek4 students planning to study in South Korea, Arthur has some valuable advice. Firstly, preparation is key. Be sure to take care of the necessary formalities such as obtaining a visa, insurance and any required tests such as Covid or tuberculosis before departing. The university will assist with the rest, so there's no need to worry.
Arthur also encourages students to take advantage of their time in Korea and explore as much as possible. "There are so many cool things to do and see, it's an opportunity that you may not have again in the future."
Lastly, Arthur highlights the importance of getting a T-money card. This universal and versatile card will greatly assist in navigating the public transportation system. "Don't hesitate to get one" he says, "it will make your life in Korea so much easier."