My international exchange experience in Epitech – Interview with Iana
" What I appreciated the most during my study exchange in EPITECH is the innovative approach of project-based learning. This teaching methodology allowed me to apply what I learn in real-world situations and gain hands-on experience that will benefit me in my future career. Additionally, I chose the Advanced Cybersecurity course which allowed me not only to learn new concepts but also to view my major from a different perspective."
About Iana
Meet Yana, a talented and motivated Cybersecurity student from St. Petersburg, Russia. In her second year of her Master's degree at ITMO University, Yana decided to take advantage of the opportunity to study abroad and embarked on a journey to Epitech as part of an exchange program. Her love for cybersecurity drives her to constantly improve her abilities and she has honed her skills further by teaching programming to children, which has also helped her develop her communication and teamwork skills.
In this article, Yana shares her overall experience of studying at Epitech campus in Paris and the reasons that made her choose Epitech over other universities.
Why Epitech was the Right Fit for Iana:
" I realized early on in my undergraduate studies that studying abroad would be the perfect opportunity to collaborate with like-minded individuals from all over the world and tackle complex projects together." says Yana. However, she knew that achieving a B2 level of English proficiency was a must for her to be able to participate in a student exchange program. Undeterred, she dedicated a year to intensive language courses to ensure she was fully prepared.
With her language skills polished, Yana set out to find the ideal international exchange program to suit her goals. "I always wanted to improve my programming and web-development skills," she explains. After thorough research, she found that EPITECH offered the perfect curriculum for her. The school's focus on practical, project-based classes and the Advanced Cybersecurity course offered were what attracted her the most. "" What I appreciated the most during my study exchange in EPITECH is the innovative approach of project-based learning. This teaching methodology allowed me to apply what I learn in real-world situations and gain hands-on experience that will benefit me in my future career. Additionally, I chose the Advanced Cybersecurity course which allowed me not only to learn new concepts but also to view my major from a different perspective" says Yana.
Studying at EPITECH was not just a chance for Yana to grow academically but also personally. "During this exchange I also had the opportunity to collaborate with peers from different backgrounds and cultures, and to gain a new perspective on the world." adds Iana.
Highlights of Iana's experience at Epitech
"One of the things that stood out to me during my time at EPITECH was the opportunity to work on projects in small teams" says Yana. "The classes at EPITECH were different from those at my home university, but I am glad to have had this experience. Collaborating with my classmates on various projects allowed me to communicate, share ideas and learn from one another."
Yana also points out that the projects varied in terms of complexity and duration, providing a diverse and challenging learning experience. "Some projects were shorter and simpler, while others required more time and effort" she explains. "But there was always the opportunity to ask our teachers for help if we had any questions."
Furthermore, Yana emphasizes the support provided by the coordinators in the International Relations office and her buddy, an EPITECH student. "They helped us understand how the school was organized and made our transition to EPITECH smoother" she says. "In addition, they organized fun activities for us to enjoy during our free time in Paris."
Iana's Favorite Things to do in Paris
"My favorite thing to do in Paris is simply to walk around the city with a cup of coffee in hand" says Yana. "It doesn't matter what the weather is like, it's always a beautiful experience. I've had the opportunity to explore so many beautiful places and meet many interesting people during my almost four months here."
Yana notes that Paris has its similarities to her hometown of St. Petersburg, but at the same time it is completely different. "Every time I walk around the city, I discover something new" she says.
She especially wants to highlight the festive atmosphere in Paris before Christmas. "The decorations, fairs and garlands are all so impressive" says Yana. "It's a special time of year in Paris, and it's truly a magical experience to witness."
Yana's experience in Paris is not just about studying but also about exploring and enjoying the city. She discovered that Paris is a city that always has something new to offer, and she enjoyed every moment of it.
Did you had the chance to travel during your study exchange in Epitech? If yes, where?
"One of the benefits of studying at EPITECH is the opportunity to travel during breaks between classes," says Yana. "My friends and I made it a goal to take a trip once a month, and we've been able to visit several cities so far."
Yana highlights that her most memorable and vivid trips were to Marseille and Nantes. "I wish I had more time to explore these cities and take in all they have to offer," she says.
Yana also has plans to visit other countries and see the Alpes and Pyrénées during the Christmas holiday. She is excited about the opportunity to explore more of Europe and discover new cultures. This exchange program not only gave her the chance to learn and improve her skills in the field of cybersecurity but also to discover the world and broaden her horizon.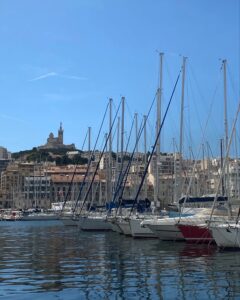 Iana's advice to our future international students
When asked what advice she would give to future international students at EPITECH, Yana emphasizes the importance of being proactive when it comes to finding accommodation. "The most difficult thing for me was finding a place to live during my exchange. The process can take several months, so it's better to start looking in advance" she advises.
Yana also stresses the importance of not being afraid to ask questions. "If something is unclear, don't hesitate to ask for help. In Epitech there's always someone there to guide you in Epitech." she says.
Summing up her exchange experience, Yana reflects on the challenges she faced but also on the many positive moments. "I encountered many difficulties during my time at EPITECH, but ultimately all the effort was worth it" she says. "The experience has been incredibly valuable and I am grateful for the opportunity to have studied at EPITECH."
Yana's experience as an exchange student in Epitech is a good example of how studying abroad can be a challenging but also a rewarding experience. She encourages future students to be proactive, to not be afraid to ask for help and to keep in mind that the positive moments far outweigh the different challenges we may encounter.